I was struck going through charts tonight that the day was much worse than it felt. The best charts are still energy and commodities which are showing euphoric strength that is difficult to take advantage of. The semiconductors have bounced into an ambiguous level and could possibly go higher but that does not give me much faith. And lots of stock stood out as just plain ugly. Most notably some big stocks look horrible. Microsoft (MSFT) and General Motors (GM) are the worst but they were not alone.
Many stocks saw volume increase with the today's drop. That seems noteworthy for a Monday. Maybe it was month end and the biotech carnage but some big red bars showed up in a lot of stocks.
I included the following stocks as two big dogs that look short-term negative but are in longer uptrends. Stocks like this need to turn higher and do the lifting if the market is going to rally.
Click on the chart to see a larger image!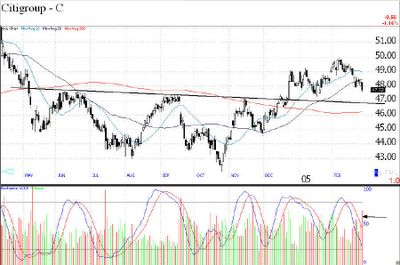 Posted by Hello
After today I would say last weeks lows seem like an easy target. I still expect vols to pick up and am surprised they have managed to stay near their lows.