This is a chart of the oil driller APA (Apache). It has had a great run but appears to be forming a short term double top. Time will tell but it should get some good support around 48. Be patient if you plan to buy as momentum seems to be failing particularity hard these days.
Posted by
Hello
FDX (Fedex) looks ready to head higher.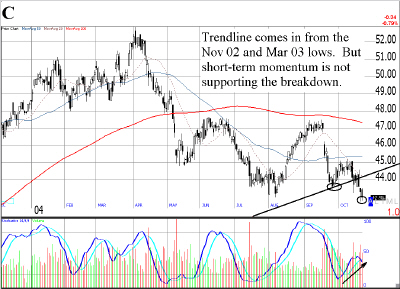 Posted by
Hello
The trendline from way back is pretty powerful stuff but there does not seem to be very much follow through on the break. It looks like C (Citigroup)will need to test the trendline from beneath. I will reevaluate it if it does.
So that was an oil stock ready to pull back, a transport leader set to continue its momentum and a bank that seems overdone on the downside. I probably need to own a few more longs here as these are all bullish implications.
No positions in any of the stocks mentioned.